DO YOU SERVICE E-BIKES?
Absolutely.  A small surcharge may apply to some ebikes, particularly to rear-drive models due to the time involved in removing their rear wheels. Full details will be given in your Booking Confirmation email and you are welcome to cancel at no cost if needed.
CAN I BRING MY BIKE TO YOU?
Flying Fix is a fully mobile service and as such not set up for customer dropoffs and pickups at this stage. However, if you live outside the free callout area and wish to meet within it, that is absolutely fine.

DO YOU SUPPLY PARTS & ACCESSORIES?
Yes.  Flying Fix supplies parts & accessories from all the major brands at competitive pricing from their official NZ distributors with full manufacturer warranties as appropriate. 
Brands include SHIMANO, SRAM, Rockshox, Continental, Maxxis, Zipp, PRO, Fabric, Raceface, Cane Creek, Giro, TACX and many more.
HOW MUCH DOES IT COST TO SERVICE MY BIKE?
Flying Fix offers a comprehensive range of Servicing Packages from as little as $99, from a quick tweak and tune before that big event, right through fully stripping down your bike to bare bones and carefully cleaning and refitting everything. If you want something other than what is shown in the packs, use the Custom Service option at booking for an obligation-free quote.

If you choose one of the 4 pre-packaged service options, the Flying Fix Van will come to you free within a 10km radius of Skytower (see coverage area).  A callout fee may apply to services outside of this area.
WHAT DO THE VARIOUS SERVICE PACKS OFFER EXACTLY?
A full breakdown of all Service Packs & pricing can be found here
DO YOU ACCEPT CARD PAYMENTS ON THE SPOT?
Yes, thanks to BNZ, Flying Fix accepts EFTPOS, Visa, MasterCard & American Express and contactless payments with no surcharge for credit card payments.

DO YOU OFFER A DISCOUNT FOR FAMILIES AND KIDS BIKES?
Absolutely.  This would come under Custom Service.  Contact Flying Fix for a speedy itemised quote.
HOW MUCH IS THE CALLOUT FEE OUTSIDE OF THE FREE COVERAGE AREA?
Typically no more than $15, however the Auckland area is pretty massive, so time and distance can vary greatly.  If you live outside the free coverage area, please use the booking form and list your address and Flying Fix will get back to you with a quote so you can decide.
WILL YOU COME RAIN OR SHINE?
Yes.  Flying Fix is not afraid of a bit of Auckland weather, however if it's particularly stormy or your location is unsuitable for mobile repairs (e.g. too steep or nowhere to work off road) your bike may need to be taken offsite back to the city fringe Workshop to complete the job, there is normally no additional charge for this service.

CAN I JUST GET MY WHEEL TRUED OR MY DROPPER POST BLED?
Yes.  Contact Flying Fix , give as many details as possible of what you need and we'll fire back an itemised quote ASAP.

DO YOU CHARGE FOR PARTS?
Parts, such as chains, pads, bearings etc are additional to the service packages (except for Ultimate, which includes cables and brake fluid).  If it looks like you are going to require parts, your Mechanic will contact you right away with a price before proceeding.
IS THERE A LIST OF ALL FREE CALLOUT SUBURBS AVAILABLE?
Right here:  Auckland CBD, Arch Hill, Avondale, Balmoral, Bayswater, Belmont, Birkdale,Birkenhead, Birkenhead Point, Blockhouse Bay, Chatswood, Cheltenham, Devonport, Eden Terrace, Ellerslie, Epsom, Forrest Hill, Freemans Bay, Glendowie, Glenfield, Glen Innes, Grafton, Greenlane, Greenwoods Corner, Grey Lynn,Herne Bay, Highbury, Hillcrest, Hillsborough, Kingsland, Kohimarama, Lynfield, Meadowbank, Mission Bay, Morningside, Mount Albert, Mount Eden, Mount Roskill, Mount Wellington, Narrowneck, Newmarket, Newton, New Windsor, Northcote Central, Northcote Point, Onehunga, One Tree Hill, Orakei, Oranga, Owairaka, Panmure, Parnell, Penrose, Point England, Point Chevalier, Ponsonby, Remuera, Royal Oak, St Heliers, St Johns, St Marys Bay, Sandringham, Stanley Bay, Stonefields, Takapuna, Te Atatu Peninsula, Te Papapa, Three Kings, Waterview, Western Springs, Wairau Valley, Westlake, Westmere.
CAN I SEE A MORE DETAILED MAP OF THE FREE CALLOUT AREA?
See below.  It's a fairly huge area, roughly bounded by Wairau/Beach Haven in the North, Te Atatu Peninsula/New Lynn in the West, Hillsborough/Onehunga in the South, and Mt Wgtn/Glendowie in the East.  Flying Fix will still come to your place outside this area, use the Contact Form for a speedy quote.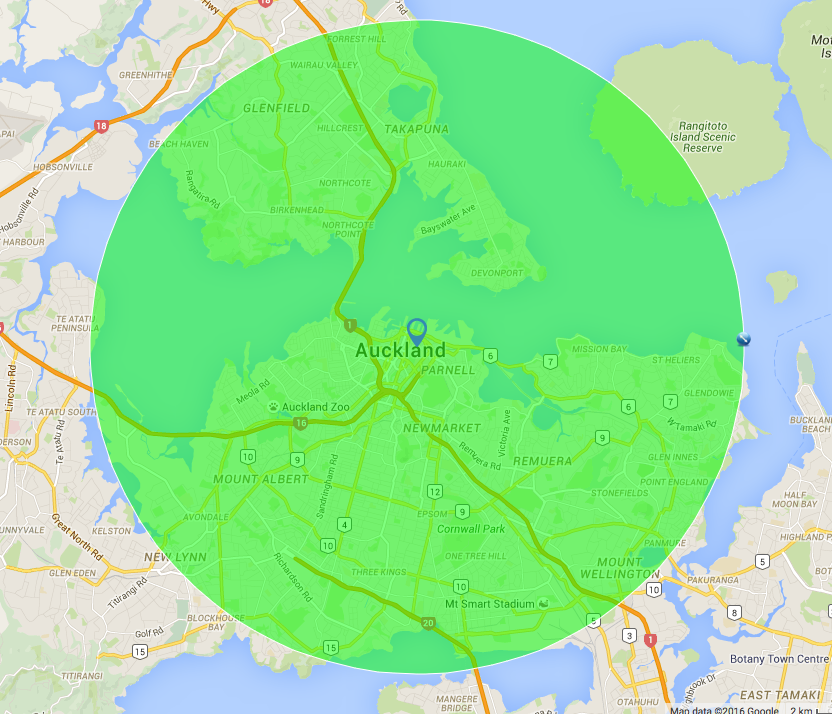 IT LOOKS LIKE TE ATATU PENINSULA IS PARTIALLY INCLUDED ON THE MAP.  DO YOU COME TO T'AT PEN?
Yes.  All of Te Atatu Peninsula is covered in the Free Callout area.
WHAT ARE YOUR QUALIFICATIONS?
Head Mechanic Simon trained as a bike mechanic in Australia and has many years experience riding, racing, servicing and repairing bikes.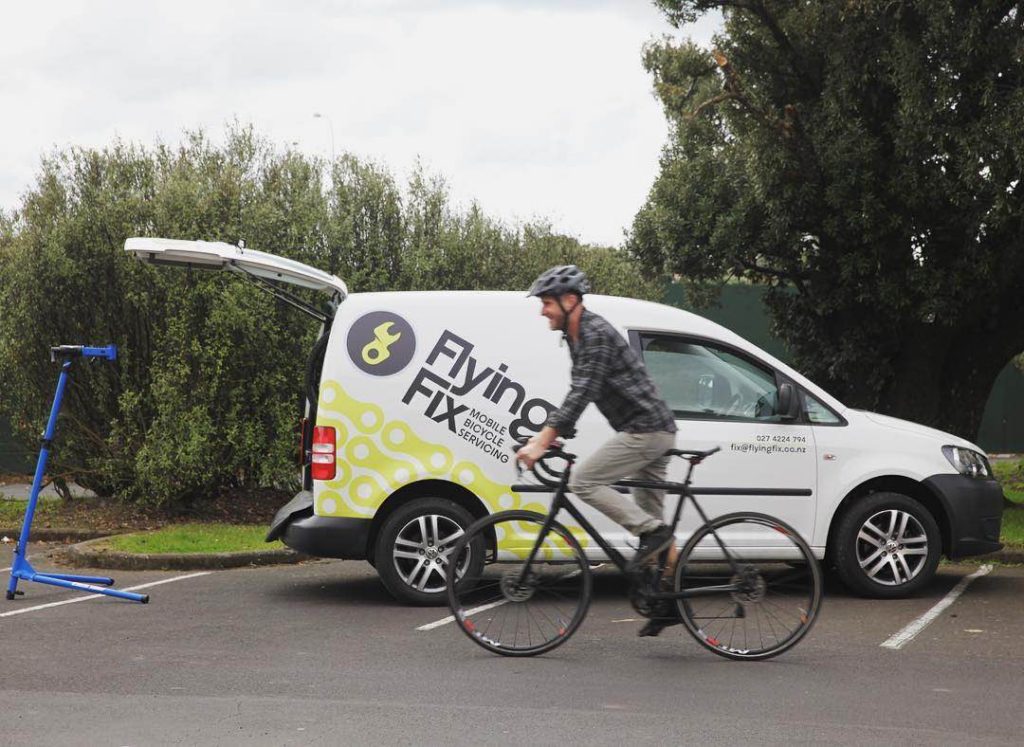 WHERE CAN I OUT MORE ABOUT FLYING FIX?
Follow flyingfixbikes on Instagram or like us on Facebook
RANGITOTO IS WITHIN A 10KM RADIUS OF SKYTOWER.  WILL YOU COME THERE?
No, sorry.  Vehicular access is prohibited on Rangitoto, as are bicycles.  Good question tho.
Have a question which isn't answered here?  Contact Flying Fix directly for a quick reply.