AUCKLAND CENTRAL'S MOBILE
BICYCLE MECHANIC
SERVICE STATUS : NORMAL - SERVICE SLOTS AVAILABLE
---
It's easy - Flying Fix comes to you for fast, convenient bike servicing with up-front pricing.
All without the hassle of taking your bike into a shop.


The Flying Fix van is a rolling workshop with the tools needed to service your bike. Your qualified, professional Bike Mechanic will do the pre-agreed service and answer any questions you have. They will consult you if any additional parts or work are recommended - no nasty surprises when you get your bike back.
No space to work at your location? No problem! Flying Fix offers a pickup and return service at no extra cost.
Go to BASIC SERVICE
BASIC SERVICE
A quality tune up at a superb price, without the hassle of taking your bike into a shop.
This package covers the basics of getting your bike running well: gears and brakes. It's also great as a pre-race tune, and recommended if you are buying a new bike or on-selling an old bike.
Go to STANDARD SERVICE
STANDARD SERVICE
The classic service package.
Covers pretty much everything you need to get your bike humming along and keep it that way.
Recommended every 6 – 12 months. Like an annual health check for your two-wheeled friend.
Go to STANDARD+ BLEED SERVICE
STANDARD+ BLEED SERVICE
Disc brakes are awesome – treat them right.
Hydraulic disc brakes need regular bleeding & maintenance to work their best. This option adds bleeding & disc brake servicing to the Standard pack

*Shimano, SRAM/Avid, Tektro & Hope brakes only
Go to PREMIUM SERVICE
PREMIUM SERVICE
A premium upgrade for high quality bikes.
Align your derailleur hanger for optimum shifting performance as well as dismantling, cleaning and re-greasing the headset. If your road bike has a few miles on it, or if you ride your MTB at Woodhill, it will almost certainly need this done to prevent bearing damage. Plus your bike will come back looking brilliant with a spotless cassette.
Go to SERVICE PACKS & PRICING FOR FULL DETAILS
Go to CUSTOM SERVICE OR REPAIR
CUSTOM SERVICE OR REPAIR
Not sure which package is right for your bike?
Got a puncture on the way into work?
Need your Shimano Di2 firmware upgraded?
Want a dropper post supplied & fitted to your MTB?
Want to fit faster rolling tyres to make that commute to work easier?

Flying Fix offers expert servicing and repair and can put together a customised package for you.
Go to SHOCKWIZ HIRE
SHOCKWIZ HIRE
Want to get your MTB suspension dialled?
Shockwiz is a sensor-based tuning tool. Connect it to the air valve of your fork or shock, Bluetooth pair it with your smartphone and go ride.
Shockwiz collects data based on feedback from internal sensors and will offer you tuning tips via the app* based on your riding style and terrain you like to ride.
Available for hire from Flying Fix for as little as $50/day.
*iOS9 and Android 4.3 onwards supported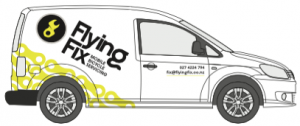 Flying Fix gets Aucklanders' bikes flying again.
Whether it's your carbon road bike, trusty e-commuter, enduro MTB, XC race bike or gravel bike - no matter what you ride or where you ride it, Flying Fix has a package to suit you.
Don't put up with poor shifting, rubbish brakes or strange noises just because getting your bike to a shop is too much hassle. Flying Fix comes to you at a time and place that suits you, whether that's home or work, or somewhere in between.